Superyacht Crew Brisbane
A fast growing metropolis with country town hospitality, Brisbane's 280 days of sunshine and outdoor lifestyle are just part of why it's the fastest growing city on the Eastern seaboard. Superyacht crew are falling in love with Briz Vegas and here's a little local knowledge about the hippest bars, best  restaurants and some hidden gems.
If you want to get some weekend food vibes but you only have a couple of hours, head just over the Gateway Bridge from Rivergate Marina & Shipyard or The Yard to Eat Street Northshore.
You'll find shipping containers and food trucks serving up great easy eats on the river bank à la, la Roulottes in the Port of Papeete.  
Open every weekend of the year Friday and Saturday 1600 to 2200 hours & Sunday 1200 to 2000 hours. 
The Powerhouse Farmers Markets is the spot to pick up super fresh produce on Saturday mornings, get there early to avoid the crowds. Jump on the upstream UQ St Lucia Ferry from Northshore Hamilton Ferry Terminal to New Farm Park and walk through to the Powerhouse.
In September & October the jacaranda trees are in bloom, showering the ground in a purplish blue haze.
Breakfast and brunch in Brisbane is almost a cultural movement. On almost every street corner is somewhere you can get coffee and a decent feed. A personal favourite, Pawpaw Café in Woolloongabba serves up all-day breakfast or the Western end of Grey St, South Bank for brunch at Gauge or Pour Boy. Brisbanites love a coffee fix and the coffee here is world class. If you're looking for freshly roasted bean suppliers check out Black Sheep, Bellissimo or Merlo coffee.
After breaky, cross over Grey Street into Southbank Parklands for some seafaring history at the Maritime Museum. Take a river walk from Southbank Parklands along The Cliffs Boardwalk to Kangaroo Point Lookout to take in the view and grab a coffee from Six Wheels Peddler.
Or cross the Goodwill Bridge and stop at Brendon's Cafe at the halfway point before strolling to the riverside Bunya Walk that winds through the Brisbane Botanical Gardens. The City Reach Boardwalk runs along the CBD with lots of options for bars and restaurants in Eagle Street later in the day.
Keep heading towards the Story Bridge and you'll come to Brisbane's newest entertainment precinct, Howard Street Wharves.
Sit under the bridge at Mr Percival's, eat honey drenched saganaki at Greca, drink a lager at Felons or lay about on the lawns and listen to music on Saturday & Sunday arvos.
There's even yoga on the lawn in the mornings and beer yoga in the afternoon. 
No visit to Brisbane would be complete without a beer and steak at 'the Creek'.
The heritage-listed Breakfast Creek Hotel has been serving beer off the wood and world famous steaks since 1889.
Book a table at the Spanish Garden for lunch or dinner and drop in to the Rum Bar housed in the old power substation.
Fortitude Valley is the suburb that never sleeps. The daytime Indie vibe transforms into a thumping club precinct by night. It's also the place for modern Asian cuisine: The neo-Chinese Little Valley has tasty small dishes, the moodily-lit Hôntô for Japanese or the intimate 10 seater Joy Restaurant in Bakery Lane dish up the goods. Grab a drink at Snack Man then slip into Happy Boy to chow down under the fairy lights in East St. 
The Beat Mega Club has been serving it up loud and proud since 1983, this lively dance club is a Briz Vegas institution and the place to catch a late night drag review.
Les Bubbles in Wickham St is the site of an infamous former brothel and illegal casino, it serves up a French style steak frites and loads of history. 
There's just 1 item on the menu, so your only decision is how you want it cooked.
If you're feeling frisky, head downstairs to the hot tub for an after dinner dose of bubbles.
Full of hip  designer boutiques and buzzing cafes James St is where to wine, dine, shop & recline.
Get a mani/pedi and a chardonnay at The Brooklyn Beauty Bar, pick up delicious cakes from Jocelyn's Provisions or grab Italian at Mosconi. 
Dello Mano makes the most delectable gourmet brownies, firm favourites with celebrities Anne Hathaway and Ashton Kutcher, they make decadent turn down gifts for onboard guests.
There's a chic lobby bar in the The Calile Hotel or go poolside for Greek at Hellenika. In nearby Newstead, you can drink artisan wines at City Winery in Wandoo St and Philip Johnson's Ecco is a favoured spot for gourmet foodies.
For a bustling, young, hip crowd there's At Six And Sevens gastropub or head around the corer for an evening cocktail at Eleven Rooftop Bar. 
Soak up some culture in the South Bank arts precinct. Gallery of Modern Art GOMA, Queensland Performing Arts Centre QPAC and the Queensland Museum. All are a great option to take a little chill time.
Check out one of Brisbane's cool, eclectic laneways, like nearby Fish Lane in South Brisbane. Stroll the 4 blocks of unassuming shop fronts on Fish Lane and adjoining Melbourne St filled with casual bars and eateries. Go Vietnamese at Hello Please for bao buns and the popular, Chu the Phat. For a glass of vino try La Lune and upstairs at Maeve Wine Bar in Melbourne St.
Slip into the barber shop and pick up the phone to gain entry to 'hole in the wall', speakeasy bar, Next Episode.
For a bite of ribs, there's nearby Big Roddy's Rippin Rib Shack or grab a burger at Grass Fed.
Further down Grey Street, The Terrace at the swanky Emporium Hotel is the cool spot for sunset drinks and the glamorous Piano Bar to drink in a martini and some jazz.
When the boss is in town, Stokehouse at South Bank offers the perfect option for owners and guests wanting fine dining on the water's edge.
With great food, wine and views this is my go to for VIPs. With a bit of local know how, it's possible to get to South Bank by tender for yachts moored in the City Reach.
Give me a call for more information. In September, the finale of the Brisbane Festival, Riverfire ignites Brisbane's skies for a world-class night of spectacular fireworks and aerobatics along the city reaches of the river. Stokehouse and Emporium Hotel offer the best seats in the city for Riverfire.
The recently opened Donna Chang serves upmarket modern Chinese cuisine in beautiful surrounds. There are stunning private dining rooms and be sure to take the stairs to the Boom Boom Room for a pre dinner aperitif. 
The hip W Hotel is a bastion of funk and home to top-notch Italian fare at Persone. Third generation restaurateurs John, Frank & Donny Gambaro serve up prime cuts at Black Hide Steakhouse in the historic Treasury Casino in the City. 
In need of a cold beer? Get the crew together and find your favourite brew.
The newly opened Brew Dog at Murarrie is just a few minutes from Rivergate Marina. Head to the riverside deck at Felons Brewery at Howard St Wharves, there's a great beer garden at XCargo or catch the CityCat to the Regatta Ferry Terminal and sit on the veranda of the beautiful old Regatta Hotel. There's microbreweries throughout the city, so try a craft beer trail or discover one our gin bars. 
For the lowdown on Brisbane's 
live music 
scene check 
Song Kick. 
Late nights in the City CBD, Fortitude Valley and Caxton Street precincts fall under the
Safe Night Precincts
(SNP). So, last drinks call is at 0300 hours and remember your ID.
All Australian drivers licences

An adult proof of age card

Australian and foreign passports

Foreign drivers licences - must display name, photo and date of birth of the licence holder. (Where a foreign drivers licence is not in English, an international driver permit issued in the country of origin is acceptable).
Here's some tips for getting around town. From Rivergate Marina & Shipyard an Uber X will set you back about $30 and an Uber XL about $40-50 off peak to get to Newstead, Fortitude Valley or the City.
The ferry and City Cats are the perfect way to travel by water. Travel upstream from Northshore Hamilton, to the City, South Bank and all the way to University of Queensland at St Lucia. Grab a Go Card if you're in town for a while, it's valid for travel on buses, trains and ferries.

In the inner city areas you can rent council bikes or download the Lime app and grab an electric scooter. Brisbane has bike and pedestrian walkways that run the length of the South Bank of the river from the Cultural Precinct, through Southbank Parklands all the way to Kangaroo Point. On the City side of the River you can walk or ride from the historic Regatta Hotel into the City and all the way around to New Farm.
Wishing you a fantastic stay in Brisbane.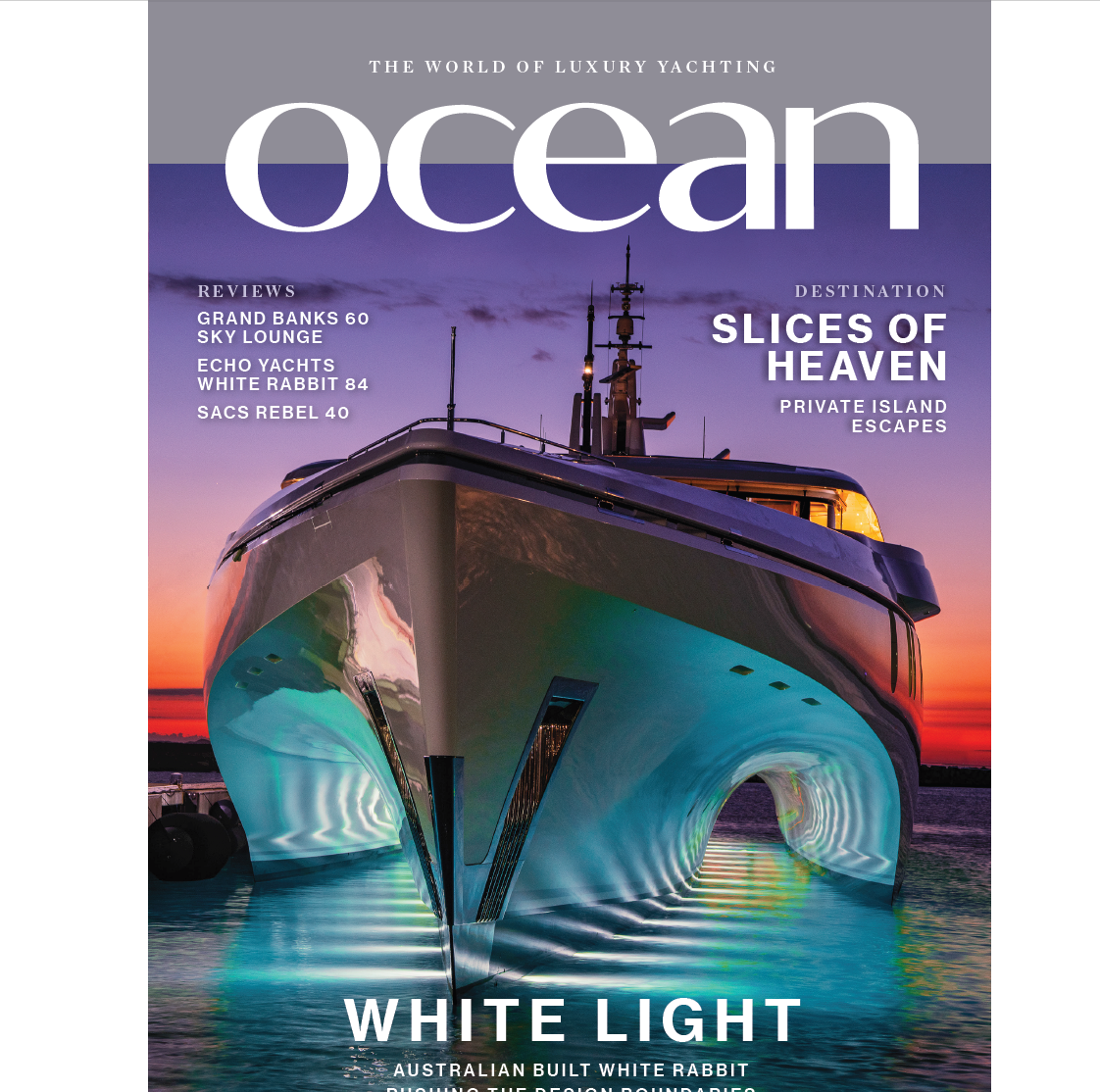 bavaria
Long, lazy lunches and warm, cosy dinners: many of our fondest memories are on board, at the table, where we share food, conversation and good company. 
Read more