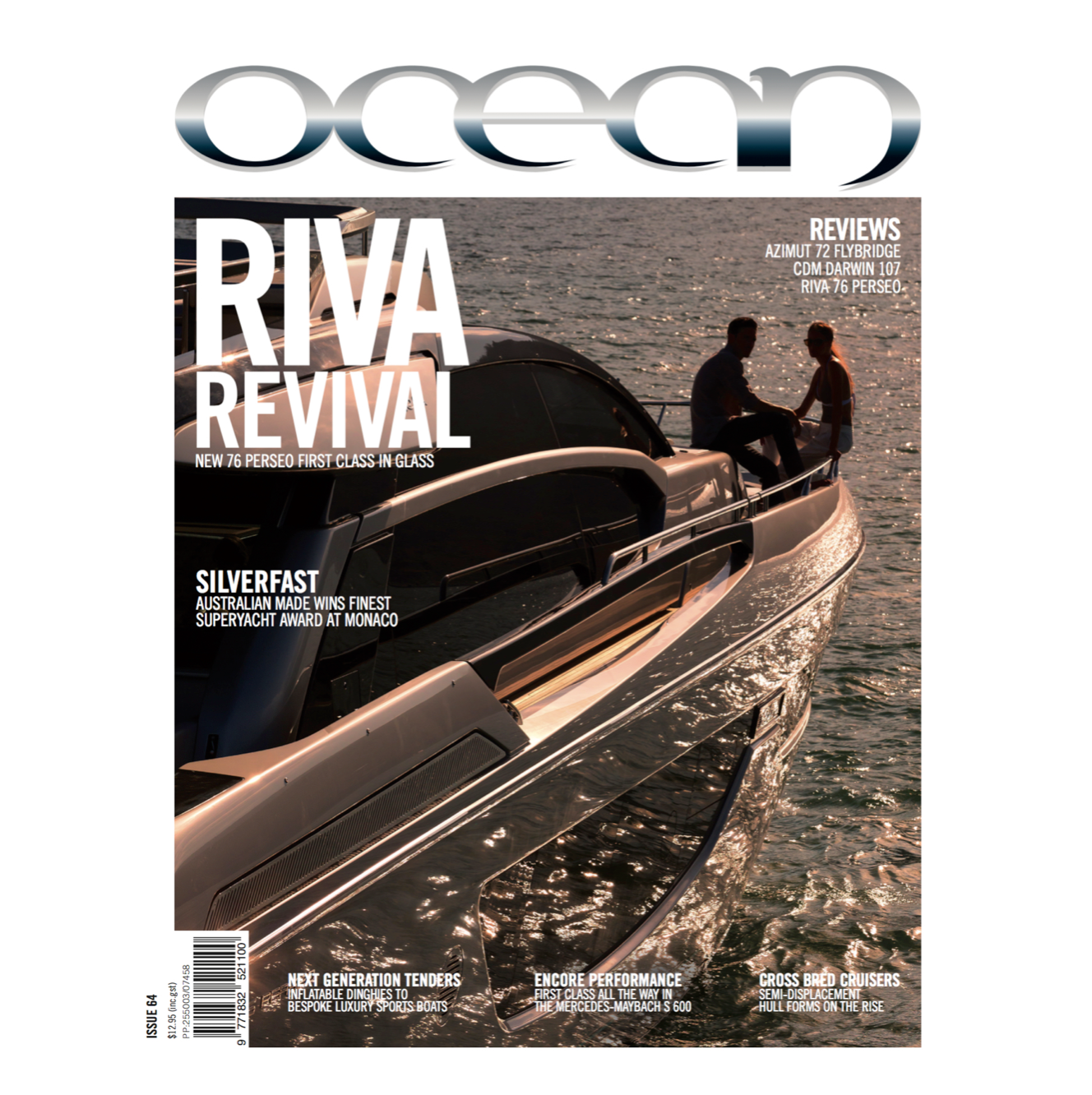 Luminosity | Ocean Magazine
"Light is the magical ingredient that makes or breaks a space."
Benjamin Noriega-Ortiz
Great lighting makes us feel good. Like a candle lit dinner it can create a special mood and instill a feeling of wellbeing. In just a decade we've seen lighting go from an 'after thought' to being an integral part of yacht design. Technical advances have brought greater energy efficiency and wonderful improvements in range of light fittings available. At last, it's possible to achieve the same high standards of lighting on our boats as we demand in our homes.
There are some fundamental differences between land-based lighting and what's needed on a yacht and failing to address these factors will cost you dearly. First and foremost is the corrosive environment created by sun, salt and water. Whether indoors or out, light fittings on yachts need to be all weather, you'll need an IP rating of at least IP67 for indoor lights and IP68 for outdoor fittings. Power hungry incandescent and halogen lights have been left in the wake of new wave, Light Emitting Diodes (LED's). A good quality LED light uses 85% less energy, lasts up to 100 times longer, will reduce carbon emissions by 68% and cut heat loadings by 25%. This allows power systems and air conditioning to operate far more efficiently. The new generation LEDs can produce a warm, natural looking light, they can be dimmable and give great luminosity or brightness. LEDs are powered by a driver, so spend the extra dollars to gain the flexibility of adding extra fittings down the track.
Just like painting with light, use multi layered light sources to achieve the most pleasing effects. By dividing lighting into 3 categories- Task, Ambient and Accent lighting you can choose the right light fittings for each area. By having them on separate switches you can change the mood with the simple flick of a switch. For the tech savvy boater, control your lights, temperature and AV all from your iPhone or iPad.
All-important Task lighting is essential functions like chart reading, navigation, for engine rooms and to ensure safety on walkways and stairs. Choose cool white LEDs, they emit the brightest, white light. You can add a red lens for night vision navigation in the wheelhouse or helm.
To add atmosphere we need a mix of both Ambient and Accent lighting. Consider integrating lights into flooring or using LED strip lighting under furniture, bench tops or ceiling recesses. Choose a warm white coloured LED for a more natural glow. Strategically positioned spotlights will showcase artwork and special features creating an eye-catching focal point. I love using table lamps on yachts to bring an intimate feel to seating areas. Secure your lamp in place with removable Museum Gel. A wall-mounted fitting adds a gentle wash of light across a wall and remember to keep deck head down lights away from the walls to avoid light bouncing around the cabin.
Want some night time magic on deck? Multi coloured RGB LEDs can be used to dramatic effect, but unless you want to transform the deck into a discotheque I'd suggest you stick with a single colour. Make the eye travel with contour hugging LED strip lighting on stairs and curves. Through-hull underwater lighting can bathe the hull of your boat and surrounding water in a wonderful blue glow at night. Blue coloured LEDs travel further through salt water than any other colour. For a no fuss mood maker use hurricane lanterns with battery operated wax candles at night to create a stunning dinner table centrepiece. You can operate these with a single remote control or use the set and forget timer.
A good lighting specialist is worth their salt, so use an expert and reap the benefits of beautiful luminosity.
Glossary of Lighting Terms:
Luminosity - The intrinsic brightness of an object.
IP - Ingress Protection rating is the international classification system for the sealing effectiveness of enclosures of electrical. The first digit is the protection rating against solid foreign objects (i.e. dust) and the second digit represents the protection against the ingress of water.
LED - A light-emitting diode (LED) is a semiconductor device that emits visible light when an electric current passes through it.
Ambient Lighting - The general Illumination of an area.
Accent Lighting - A light source that calls attention to an object or area.
Task Lighting - Unlike the average home, a yacht layout is curved with tapered walls so using a standard grid pattern of down lights can have harsh lighting bouncing off the walls.
RGB LED - Multi-colored LED lights using the primary colours of Red Green Blue. They can produce an array of colours and change using a programmed controller.