Magic Carpet Ride | Ocean Magazine
It's time to let your boat's floors take centre stage, kick your shoes off and take a walk on the plush side.
"Art for the floor"
Edward Fields House of Tai Ping Creator of the hand tufted rug.
In 1949, archaeologists unearthed an almost perfectly intact 2500 year old Persian rug, testimony to the durability of the weaver's craft the finest carpets are made in much the same way to this day. The feel good factor of walking bare foot on carpet remains hard to beat. By using time-honoured techniques in new ways, we're changing the perception of carpet as simply a background to other furnishings to the possibility that the carpet itself can become a design focus of its own.
Carpet and rugs bring warmth, ambiance and wonderful insulation properties to a yacht. Soft materials such as fabrics, carpets & rugs absorb and reduce noise levels, whereas hard materials like wood reflect sound. When selecting a new carpet brush your hand in one direction across the carpet surface to see if the fibres appear either darker or lighter. The carpet tracking imprint left by footprints is more obvious on plusher cut pile carpets, so unless you need to retrace your steps avoid using plush and velvety carpets in heavy traffic areas. Embrace the trend towards more heavily textured carpets as the perfect solution for masking footprints.
The fibres that make up carpet each have distinct characteristics and offer varying levels of durability. Whether you choose wool, silk, nylon, polyester or acrylic, you'll need to carefully consider the practicalities of where the carpet will be and what conditions it'll be subjected to. How much foot traffic? Will it get wet? Is there sun penetration? Above all, how do you want it to feel underfoot?
I stick with the trusted, tried and true carpet fibres because the "new and improved" ones are usually just 'new'. In recent years, I've used solution dyed nylon carpets for yachts where easy care is a priority. A hardwearing fibre that offers high durability and great colourfastness, the solution dyed technology locks the carpet colour into non-porous fibres making it resilient to abrasion, matting and staining.
Up until now I've chosen nylon over polyester carpet, as polyester tends to mat and crush more easily than nylon. However, Sorona® polymer fibre carpets are the exception. Touted as the new 'super carpet' many believe it will make many synthetic fibres obsolete. This might be an over-statement but in many ways Sorona® lives up to the hype proving worthy of a mention amongst other traditional carpet fibres. It's unbeatable for durability & stain-resistance and remarkably soft.
When it comes to the environment, carpet manufacturing has come a long way, Sorona® contains 37 % renewable plant-based ingredients and boasts an enviable environmental footprint. I love the earthy tone and texture of sisal but it doesn't respond so well to a splash of red wine or application of sunscreen. Natweave flat weave carpet gives a wonderfully, natural look to both indoor and outdoor spaces while providing exceptional durability. Softer than sisal, Natweave is made from polypropylene and comes latex backed in widths of up to 4 metres.
Just like your favourite jumper, wool carpet is warm, soft and the perfect choice for areas where a luxurious appearance is important. It's naturally stain resistant to liquid-based spills and releases dirt easily because of its bulky fibres, but be sure to clean up spills quickly. Wool blends are the most commonly used carpets on yachts and can include silk, artificial silk, nylon or other natural fibres like flax or sisal.
The pinnacle of luxury carpets are silk, its unrivalled shimmer can transform a simple rug into a magic carpet. Highly prized for their intricate detail yet surprisingly robust, I do recommend you leave cleaning your silk carpets & stain removal to the professionals. A new world is dawning with the advent of artificial silk yarns that mimic the lustre and softness of real silk with added stain resistance.
A well-designed area rug can define a space by creating a focal point for a lounge or dining area. When a rug is partially covered and surrounded by furniture you can afford to be bolder with pattern and colour. When it comes to size, the rule of thumb is to be generous with the scale of your rug, so when you place all of your furniture on top of the rug it's at least large enough that the front legs of all the furniture are on it.
Head of Tai Ping Carpets Yacht Division, Xavier Bonnamy has seen the role of custom carpeting mature from an afterthought into an integral part of the interior design process. "When we started in 2001, the entire interior of a yacht would be designed, but when it came to the floor, they would simply opt for a plain-cut beige carpet," he recalls. "Now, some designers will actually start the project with the floor or, as we often call it, the 'fifth wall'. Founded in 1956, Tai Ping's signature hand finishing techniques such as hand tufting, carving and sculpting set their carpets apart from the rest of the fleet.
Having recently completed a yacht project with Tai Ping, I reflect on the level of customisation throughout the entire process from conception to installation. Each carpet's dimensions, design, colour & fibres are unique to that design project, giving the designer endless scope for creativity. While drawing my inspiration from the yacht's extensive art collection, the artisans of Tai Ping skilfully interpreted that vision, transforming a blank canvas into the owner's desire for something truly bespoke.
Tai Ping has just debuted its indoor/outdoor Field Collection - each rug is hand tufted and fully customisable in solution dyed acrylic creating the perfect 'all weather' art piece. Just imagining the ocean of possibilities makes this designer go a little weak at the knees.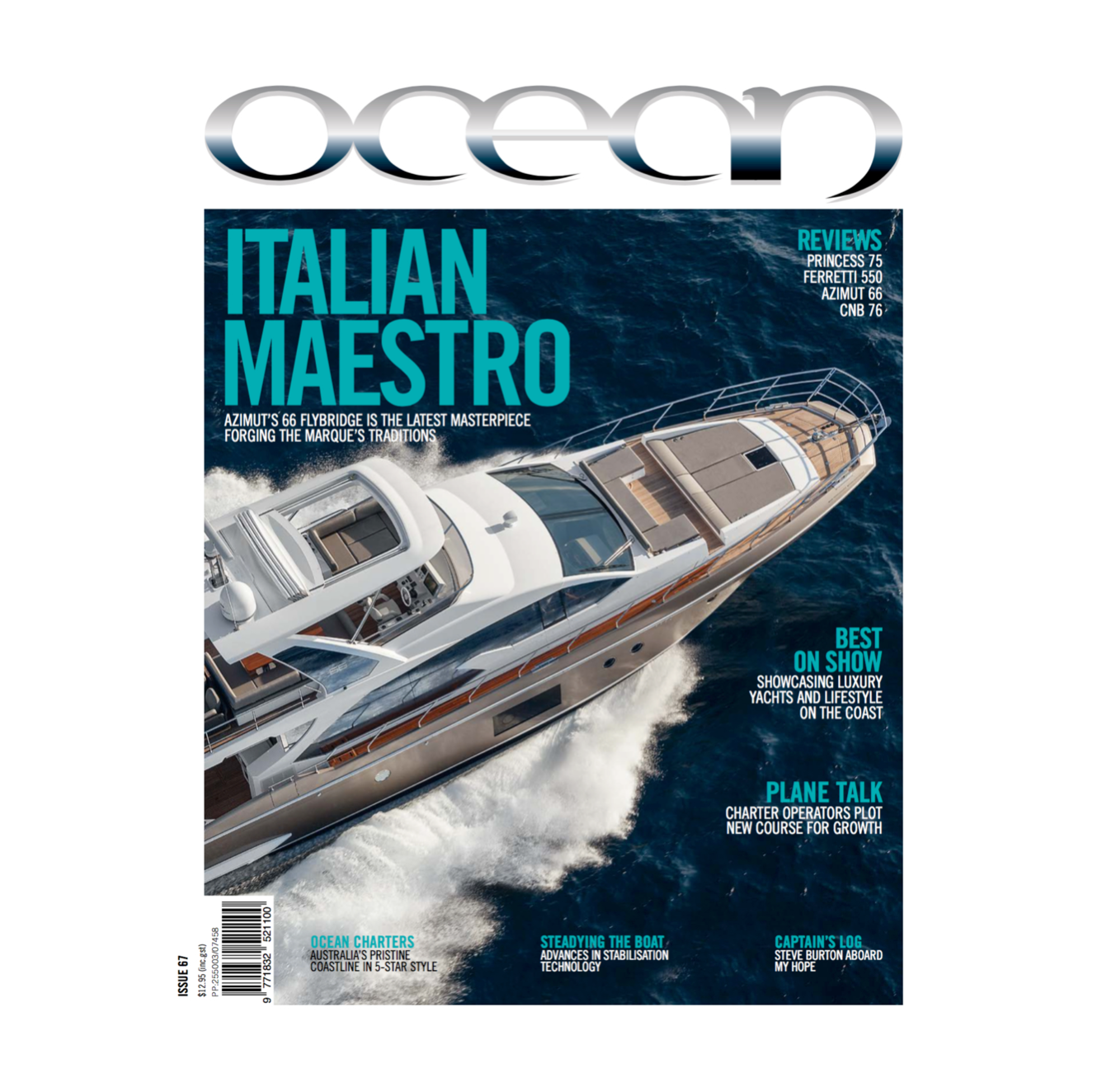 B&B Italia
Naval Architects and yacht designers are bringing the outside in by creating exterior living spaces with all the same amenities as interior spaces.
Read more