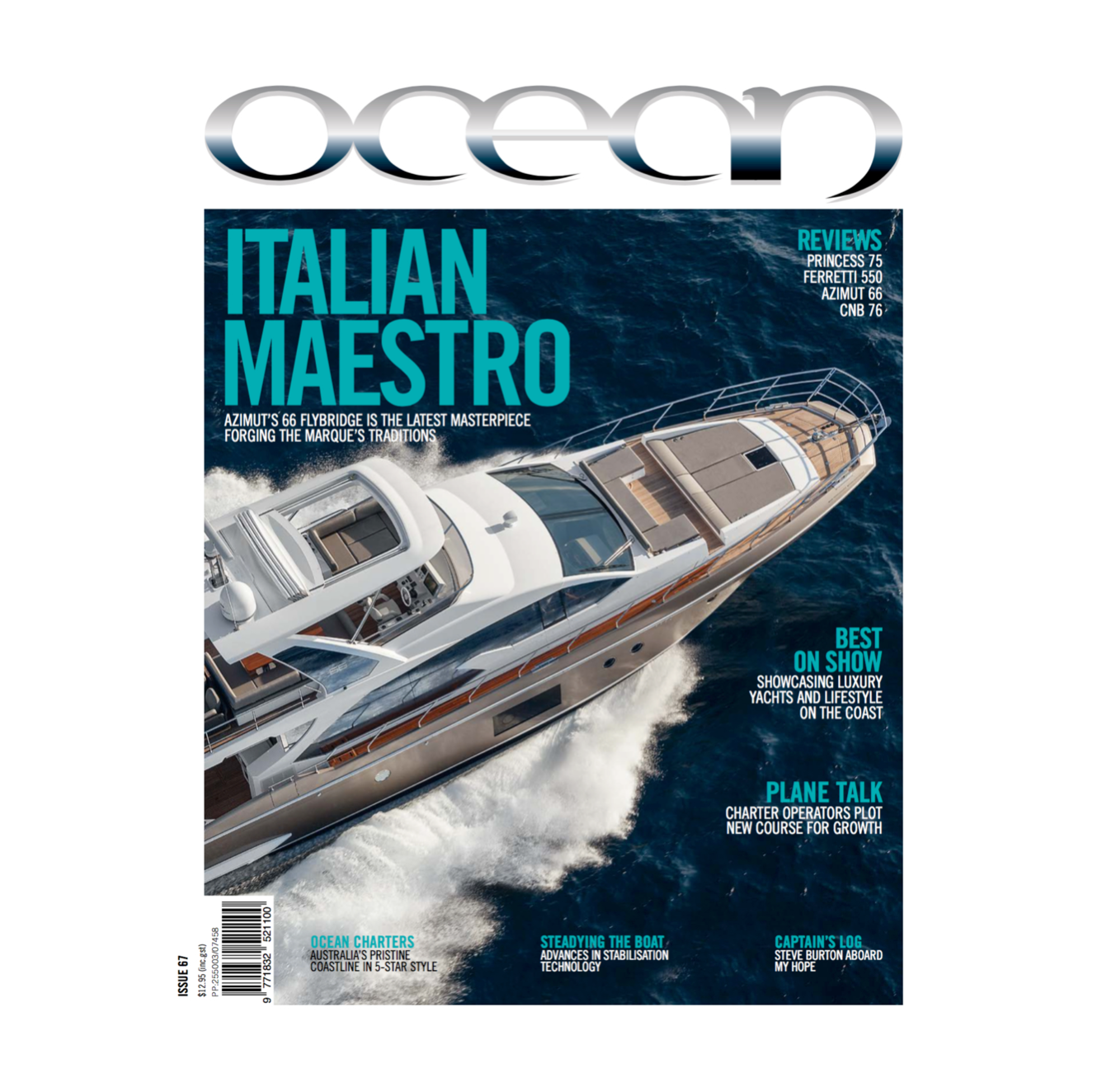 Get Outside | Ocean Magazine
Nothing revives the soul like fresh air, sunshine and sparkling sea views.
Here in Southern Hemisphere we're blessed to be able to spend time outside all year round. Outdoor living spaces are well on their way to becoming a requisite rather than simply a value-add. Naval Architects and yacht designers are bringing the outside in by creating exterior living spaces with all the same amenities as interior spaces. The furniture, textiles and overall design of outdoor spaces are a reflection of a yacht's design aesthetic, and in response manufacturers continue to raise the bar for outdoor luxury products. By combining the comfort of indoors with the purity of the outdoors we discover the essence of luxury yacht living.
Material Matters
Understated elegance works best so as not to take away from the grandeur of the surroundings. That being said, it doesn't mean scaling back on luxurious finishes. Outdoor furniture has come a long way, and today they're made of materials that are both luxurious and able to stand the test of time and elements.
Choosing the right type of material will determine the longevity of your outdoor furniture. It must resist long-term exposure to UV rays, prevent corrosion and rust from moisture, and be able to withstand high winds. All three weather elements can quickly wear down outdoor furniture constructed with inferior materials. Moreover, material matters for keeping the outdoor furniture cool to the touch on a sweltering summer day as some materials instantly become hot to the touch when exposed to a sun-drenched deck.
By mixing different materials together you'll give your space style and a touch of originality.
Poly Wicker furniture that's rated for outdoor use, is a combination of real wicker and poly resin materials that hold up to the rigours of outdoor use and unpredictable weather conditions. It lasts for years and is among the most comfortable of all outdoor furniture. Be sure to choose High Density Polyethylene (HDPE) Wicker and not cheap PVC wickers. If you've heard of bad experiences with synthetic resins, it's probably because the furniture was made from low quality PVC plastic.
Wood remains an extremely popular choice- long lasting, low maintenance, and its natural oils protect it against deterioration and rot. The gold standard for wooden marine furniture is tropical teak. The demand for teak is high amongst those who choose to make the investment and can last up to 50 years.
Steel is the strongest material by far but it's also the heaviest and most expensive. Be sure it's either 304 or 316 grade stainless steel to avoid corrosion in the salt water environment. Because of its weight, be careful when using steel furniture for things like dining chairs or side tables that will be moved often.
Cast Aluminium is a wonderful lightweight and durable material but you should avoid choosing aluminium for areas that experience high wind gusts.
Resin is one of the newer materials being used for outdoor furniture. It won't rot, rust, fade, yellow or crack despite temperature changes year round. It's always cool to the touch, so on a hot day you can sit in a resin chair and not get your legs burned. It never needs to be painted, as the color is embedded in the moulded resin material. Because of this moulding process, the shapes that are possible are endless. Ergonomic, curved designs are breaking the mould of traditional outdoor furniture.
Outdoor Fabric
There's a myriad of outdoor fabric manufacturers today, producing glorious fabrics that are weather, fade, chemical and mildew resistant. Acrylic outdoor fabrics are very breathable, allowing the interior of the cushion to dry quickly. These fabrics are easily cleaned and remain fresh and new looking for years. For leisurely, casual comfort they are unequalled. Nothing compares to the touch and smell of natural leather but outdoors and especially in the marine environment the gauntlet of harmful elements would ordinarily send leather owners into a tailspin. Innovations in the manufacture of outdoor vinyls, such as Ultra Leather have given designers fabrics that are hard wearing and look like the real thing. But now there's a new player - Xtreme Outdoor Leathers are hardwearing, water resistant, genuine hides that can withstand dirt, saltwater, chlorine, disinfectants, mould, oil, alcohol and UV radiation. 
Accessories
Outdoor rugs are a wonderful way to complete an outdoor room and are inexpensive, durable and available in almost any motif or colour imaginable. And for those extra cold nights that are still too beautiful to eat indoors, have some warm blankets on hand to keep your guests comfortable. Often just having some extra warmth on your shoulders or legs can make all the difference. Be sure to add some tabletop flourishes like lanterns, floral arrangements, lovely napery and elegant shatterproof tableware & stemware to set the stage for an unforgettable evening under the stars.
So go get on deck, embrace the great outdoors and all it has to offer.
Need advice and options?
Browse our collections of outdoor furniture or contact us for advice and options.