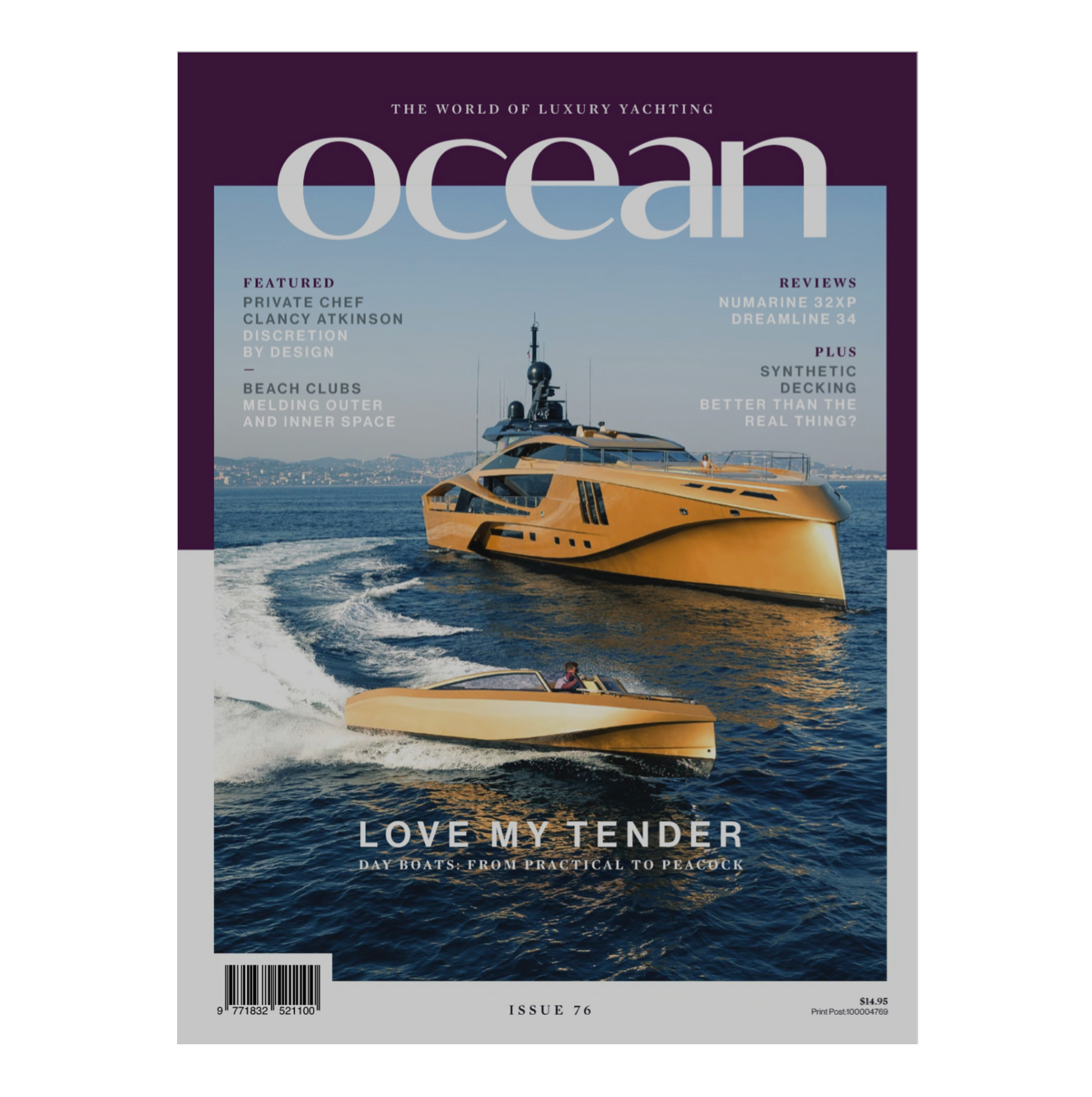 Monaco Yacht Show | Ocean Magazine
125 of the world's finest superyachts were showcased at the 2017 Monaco Yacht Show, whilst a further 250 yachts lay in wait in the bay adjacent to Port Hercule.
The superyacht world strolled the carpeted marinas to view rows upon row of glistening, floating behemoths making their debut. They could test-drive the latest Lamborghini Huracan Spyder or take a spin in the Arrow460 Grandturisimo tender and for the ultimate piece de resistance, you could place your order for Aston Martin's latest project, a submarine codenamed Neptune. Monaco Yacht Show is a spectacle that nothing can prepare you for, quite simply put, it is a temple to luxury.
For a designer, the Parvis Piscine pavilion is maritime Mecca. Filled to the gunwales with the haute couture of yacht interior suppliers. I love to discover new ranges, develop stronger alliances with our suppliers and learn how to use products and technology in new and original ways for our custom designs.
Custom design encompasses both made-to-measure and bespoke; however, there is a clear distinction between the two. A useful analogy is a tailor made suit. When you have a suit made-to-measure you choose your preferred design from the range, you select the cloth and the tailor makes a number of adjustments to achieve a better fit.
Alternatively, you can commission a bespoke suit, à la Saville Row. Bespoke implies a hand crafted item, made from scratch with precise and careful consideration to the owner's exact requirements. By its very nature bespoke design is the ultimate indulgence. The same applies to semi-custom and fully custom yachts. More often than not, yacht interiors are a combination of both made-to-measure and bespoke items.
The Danish furniture designer, Glyn Peter Machin debuted his new, unique diffusion line, Adorn. Bespoke and limited edition objects of beauty, each piece is made with the finest materials and craftsmanship. Glyn's wife was the inspiration for the first coffret, a rather special place to keep her jewellery and since then bespoke boxes have been commissioned for writing sets, watches, humidors and even to perfectly house a set of binoculars. 
Marine Leather mixes the perfect blend of both modern and age-old techniques with the art of leather making. This third generation Italian company has a very creative take on classical design, using specialised techniques such as the Italian art of hand threading, intricate embroidery, French pleating/plissée and spangles/paillettes of precious metals. 
Creating the heirlooms of tomorrow, Lorenzi Milano transforms natural materials into unique objects that can be used everyday. In 1929, Giovanni Lorenzi began making cutlery for the refined families of Milan. Using bone, shell, bamboo and exotic timbers, this family company remains steeped in traditional values and a passion for artisanal homewares. My personal favourite was a mahogany toolbox housing multiple layers of finely crafted tools, it exhibited all the hallmarks of craftsmanship and functionality.
floe / fləʊ
A sheet of floating ice.
Origin: Old Norse.
Tai Ping's luxurious and signature product is hand-tufted carpet. Every step in the process, from design to yarn dying, tufting and carving is done by hand, imbuing each piece with a one-of-a-kind texture that can never be replicated. This unrivalled expertise has led to 40% of the top superyacht fleet using Tai Ping carpets onboard. Premiering a new collection of 18 designs, Floe embraces a marine theme in its wildest form. Drawing inspiration from the fjords of Iceland with gigantic flowers, jewel-like icicle patterns and wondrous gradient effects, the collection delicately plays with the senses. Many of the Floe designs use the revolutionary Field yarn, a 100% solution-dyed acrylic offering great versatility for both in and outdoor use.
In their 15th appearance at the Monaco Yacht Show, Heirlooms Fine Linens demonstrated the British skill and craftsmanship that sets them apart from other linen suppliers. Inspired by the sensational Jardin Exotique du Monaco, bed linen with delicate 'botanical' embroidery, subtle metallic highlights, on feather light sateen cotton and pure linens, I had the distinct sense of being in an enchanted garden.
We're delighted to work together with Heirlooms Linens to offer their exclusive, bespoke bed, bath & table linens to our clients and to debut the new ready-made, Heirlooms Home Collections in Australia.
Whether made-to-measure or bespoke, the ultimate aim is to capture and fulfil an owner's vision of creating something personal, liveable and uplifting.