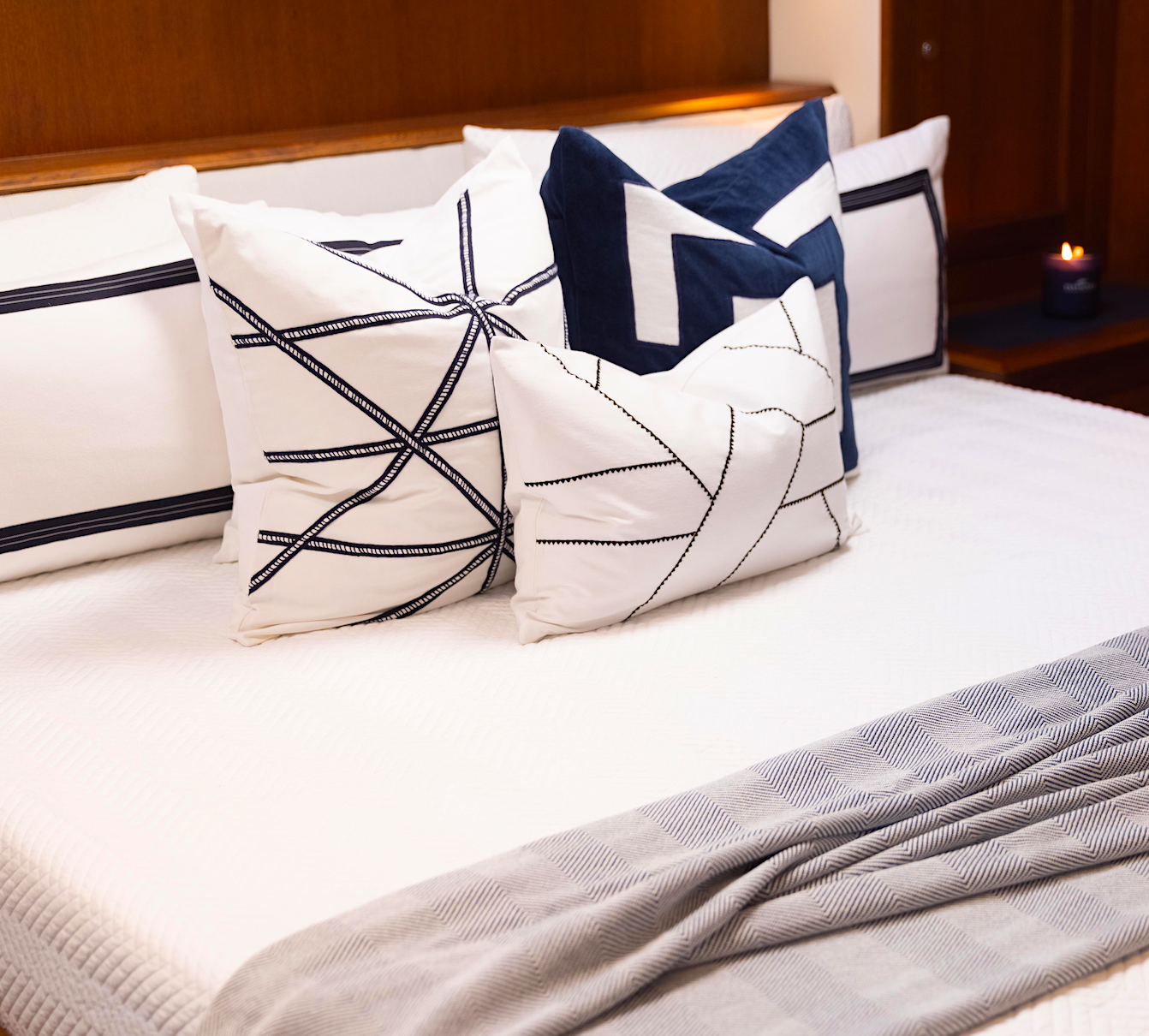 Throw Pillow Layouts for Boat Cabin Beds
Boat beds are the dominant feature of any cabin, so make it a stunning focal point. At the end of a day on the water, your cabin should be a place to retreat and relax, your private floating haven.
Unlike a land-based bedroom, onboard a boat there's much less circulation space, limited storage, often lots of timber detail and furniture is usually built in, a great grouping of throw pillows and good bedding can pull it all together. You can stack them, prop them up, mix sizes, add different shapes, go symmetrical, or just pile them on with abandon. We don't recommend the last option.
Here are our 5 true, tried and tested throw pillow layouts for Double, Queen & King size beds. 
To create the perfect sanctuary, you need to start with properly fitting sheets, a duvet/doona or coverlet and good sleeping pillows. Now to add the designer edge, you'll need to accessorise with some decorative throw pillows.
That doesn't mean you should use a pyramid of throw pillows, remember it's a boat and at night you'll need to put them somewhere. So, if you're tight for space use less pillows. As a rule of thumb, not including the pillows you sleep on, there should be a maximum total of 6-7 Euro pillows and throw pillows for a King or Super King, 3-5 for a Queen, 3-4 for a Double and just 1 plus pullman or bunk you may be able to add 1 Euro for a twin cabin bed.
Go wide
To create the perfect backdrop you want to fill the entire width of the head of the bed with your sleeping pillows.
For a King or Super King size bed, use either three standard size pillows or a pair of king size pillows. 3 Euro pillows make a great backdrop.
A Queen bed looks best with 2 Queen size pillows. As for square Euro pillows, use 2 on a Queen size mattress.
Euro pillows are great to give extra height at the head of the bed and are nice to lean on if you read or sit up in bed.
Odds or evens
I like an odd number of throw pillows for a more relaxed look. 2 shams or 3 pillows work well on a double bed and 5 or 7 is a better bet on larger beds.
Even numbers will give the bed a more formal feel; so if you prefer perfect symmetry, try using some striking geometrics or contrasting colours in even numbers.
Colour choice
A winning formula is to choose one overall colour with throw pillows in multiple patterns and textures.
For a subtler effect, choose colours that are next to each other on the colour wheel, or analogous colours. These are colours that have a lot in common but are slightly different and make for a colour palette that is quieter and polished.
If you plan to keep your colour palette neutral, but don't want dull; you'll need throw pillows that add some texture and pattern to your space.
The wild card entry
I love to add one quirky pillow to add a sense of fun, so don't be afraid to toss in a beaded, embellished, or unusual shaped pillow that adds some X factor.
Final flourish
Lastly, place a throw blanket or bed sash across the bed just in from the end, to crown your new look bed.
Browse our Shop by Colour collections to find your perfect throw pillows, bedding and accessories.
We're always here help you pull it all together, give advice and help with any questions. Feel free to call or email.
Happy boating,